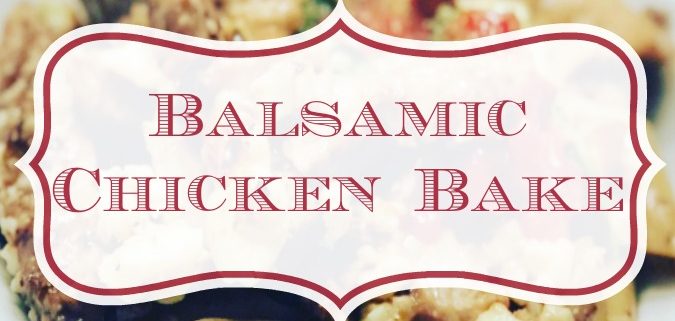 #TipTuesday
Balsamic Chicken Bake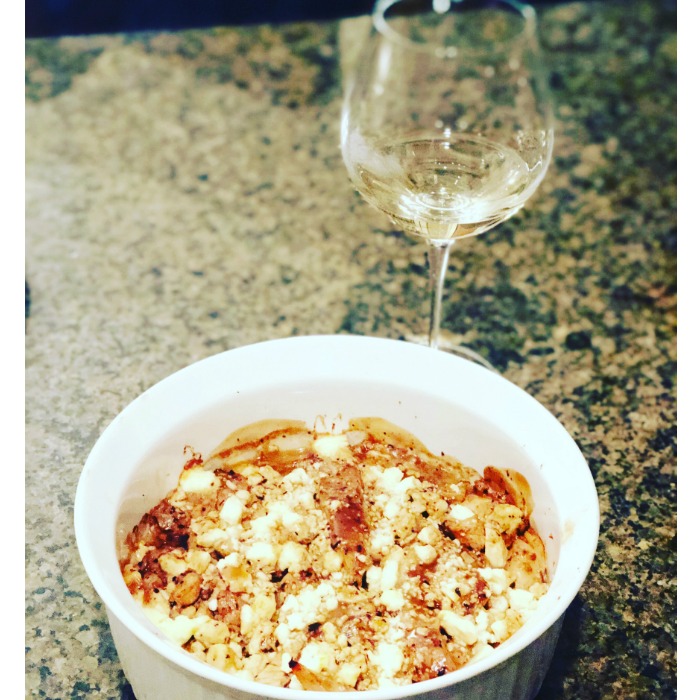 Ready for a quick and easy dish for dinner that should please most palates?  Look no further than Balsamic Chicken Bake.  An added perk: this dish is rather healthy boasting grilled chicken, tomatoes AND spinach!  My cousin introduced me to this deliciousness not too long ago and it has swiftly become a weekly staple.
You will need:
9 x 13 casserole dish
Bag of Perdue grilled chicken (if you prefer, you can grill your own chicken.  Perdue just saves me time!)
1.5 tablespoons of Olive oil
Bag of Spinach leaves
10-15 Campari Tomatoes
Small container of feta cheese
Creamy Balsamic salad dressing (I use Newman's Own – feel free to use any brand you like)
Box of campanelle pasta
Dish Deets:
Prep Time: 10-15  minutes
Cook Time: 20 minutes
Feeds: 2-3 adults OR 2 adults, 2 children
Directions:
(1) Preheat oven to 350.
(2) Bring a pot of water to a rumbling boil for your pasta.  (I usually add a 1/2 a tablespoon of olive oil or a small scoop of butter to prevent the noodles from sticking while cooking)
(3) In a skillet, add half a tablespoon of olive oil and allow pan to heat up.  Add the Perdue grilled chicken.  Toss until the chicken is browning and heated through.  Set aside.
(4) Slice your campari tomatoes, as if you were slicing them for a salad or sandwich.  Set aside.
(5) Spray your 9 x 13 dish with a minimal amount of cooking spray.
(6) Layer the 9 x 13 dish with the following ingredients:
First: Layer the spinach leaves (use the whole bag if you wish or 1/2 bag if preferred)
Second: Layer your campari tomatoes in the following manner: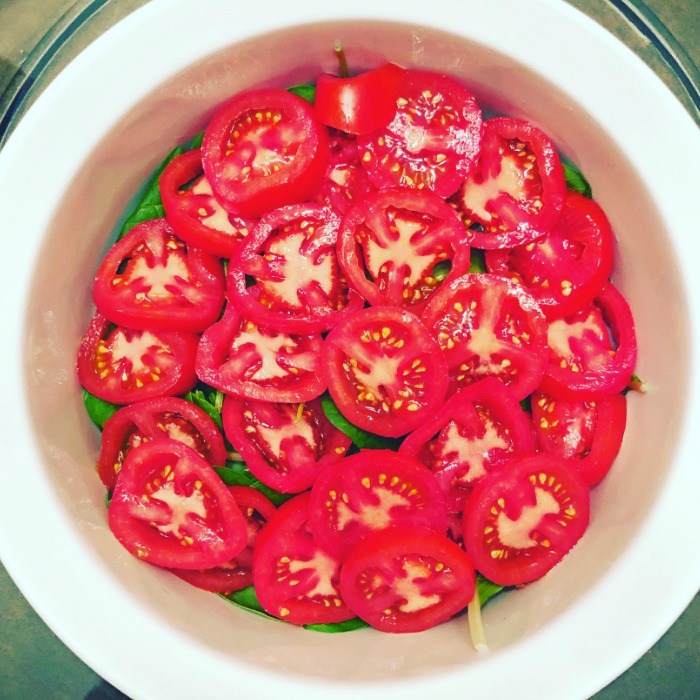 Third: Layer the grilled chicken.
Fourth:  Layer the feta cheese.  I use an entire container.  We are cheese lovers.  The amount you use is up to you!
Last: Drizzle the creamy balsamic dressing liberally over the entire dish.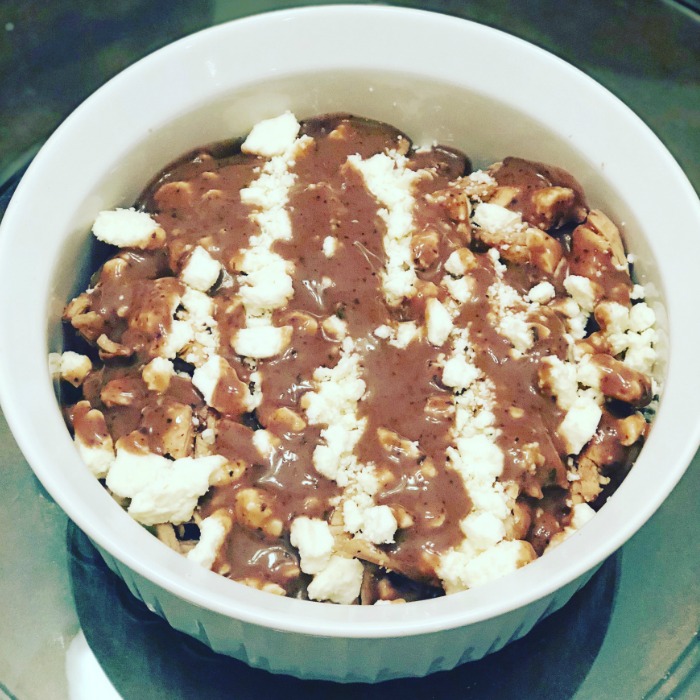 (7) Place the dish in the oven for 20 minutes.
(8) Add the campanelle pasta to the boiling water.  Drain.  Set aside.
(9) After the pasta has cooled a bit, add enough balsamic dressing to cover the noodles.  Fold in until the noodles are adequately "dressed."
(10) The balsamic bake should bubble and have a "soupy" consistency when finished cooking.  The spinach leaves will be wilted and the tomatoes will be soft.  The feta will have begun to melt as well.
(11) To serve: Put two large spoonfuls of the pasta in a bowl.  Next, put a serving of balsamic chicken bake on top – enough to cover the noodles.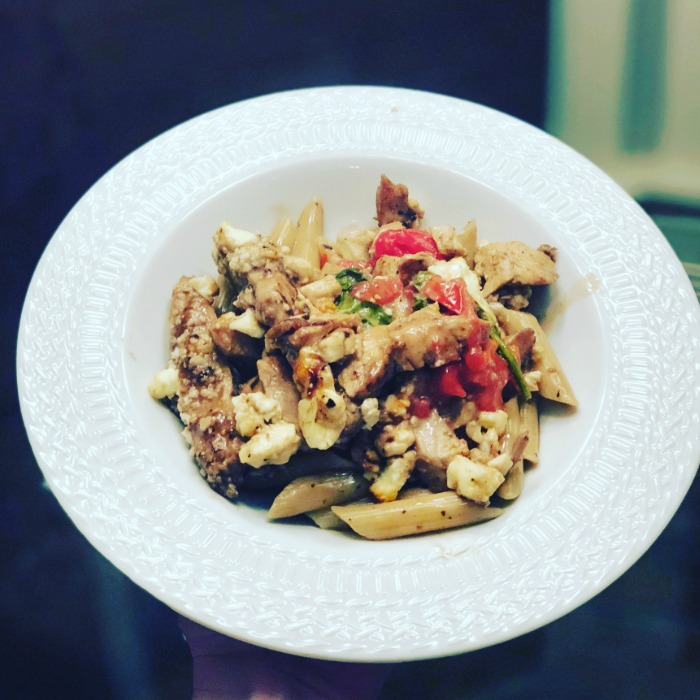 I offer extra feta and balsamic dressing to my family so that they can add as a garnish once the dish is served!
Enjoy!
What are you fixin' in your kitchen this week? Please share in the comments! 🙂
Welcome to the Tribe, friend! I am so thankful you stopped by.  I hope you are finding some neat things here, and if you like what you see, I would love to add you to our Monday newsletter list!  Each Monday I send out a list of all the new blog posts right to your inbox so you don't have to search for the latest tips, recipes and encouragement! 🙂 Let's be friends…Add your email below!
http://www.erinbrownhollis.com/wp-content/uploads/2018/01/blogaaaaaabalsamic.jpg
372
675
erinbrownhollis@gmail.com
http://www.erinbrownhollis.com/wp-content/uploads/2016/08/eb_logo2.jpg
erinbrownhollis@gmail.com
2018-01-22 05:53:21
2018-01-22 05:53:21
Balsamic Chicken Bake