#TipTuesday
Parmesan Crusted Cod with Fluffy Cranberry Couscous
I know, I know.  The sound of cous cous is SO not my style…
I'm a very "dump it, mix it and serve it"/ comfort food kinda girl.
But, I have to say, cous cous ain't half bad, folks…
Sharing another one of the recipes from my H ello Fresh finds with y'all today… with my twists, of course 😉
Who knew that couscous could be so yummy?!?  Heck, I didn't even know how to properly pronounce "couscous" until a Friends episode way back in the day…anyone with me on this one?
So, now that I know how to cook it, I'm kinda fond of it.  It has a very interesting texture.  Throw in some cranberries and mix it up extra fluffy…Y-U-M-M-Y!!  Enjoy!
You will need:
2 cod filets
1/2 cup shredded parmesan
1 cup panko breadcrumbs
1 bag of couscous
1 roma tomato
8 ounces of Brussels sprouts
1 lemon
1/4 ounces of parsley
Vegetable stock concentrate
1 ounce of dried cranberries
Olive oil
2 tablespoons of butter
Salt and pepper to taste
Dish Deets:
Prep Time: 10-15 minutes
Cook Time: 35 minutes
Feeds: 2 adults
Directions:
(1) Preheat oven to 425.
(2) Wash your produce and trim Brussels sprouts.   Half them lengthwise.  Cut the roma tomato into wedges.  Line a baking sheet with a piece of aluminum foil.  Toss the Brussels sprouts and tomato wedges liberally with olive oil, salt and pepper.  Cook for 20 – 25 minutes or until the tomatoes are soft and the Brussels sprouts are hard.
TIP: If you cook the Brussels sprouts with the cut side on the baking sheet, they will come out much more crisp!
(3) Bring 1 cup of water and 1 tablespoon stock concentrate to a boil.  Once the water is boiling, stir in the couscous and add the cranberries.  Place the lid on the pot and remove from heat.  Set aside.
(4) In a small bowl, mix together the parmesan cheese, panko bread crumbs and a large drizzle of olive oil.
(5) Brush each piece of fish with a layer of olive oil and then cover with a thin layer of the parmesan / panko mixture.
(6) Place the fish on a baking sheet and bake for 10-12 minutes, or until the fish is white throughout and beginning to flake.
(7) Finely chop the parsley to garnish the couscous and add to the finishing sauce for the fish.
(8) Cut lemon into 2 halves.  Juice one half of the lemon.
(9) Melt the butter in a small pan over medium heat and add half of the lemon juice.  Stir in half the parsley, salt and pepper.
(10) To plate, fluff the couscous and add a large helping to each dish.  This is the texture you are looking for with the couscous: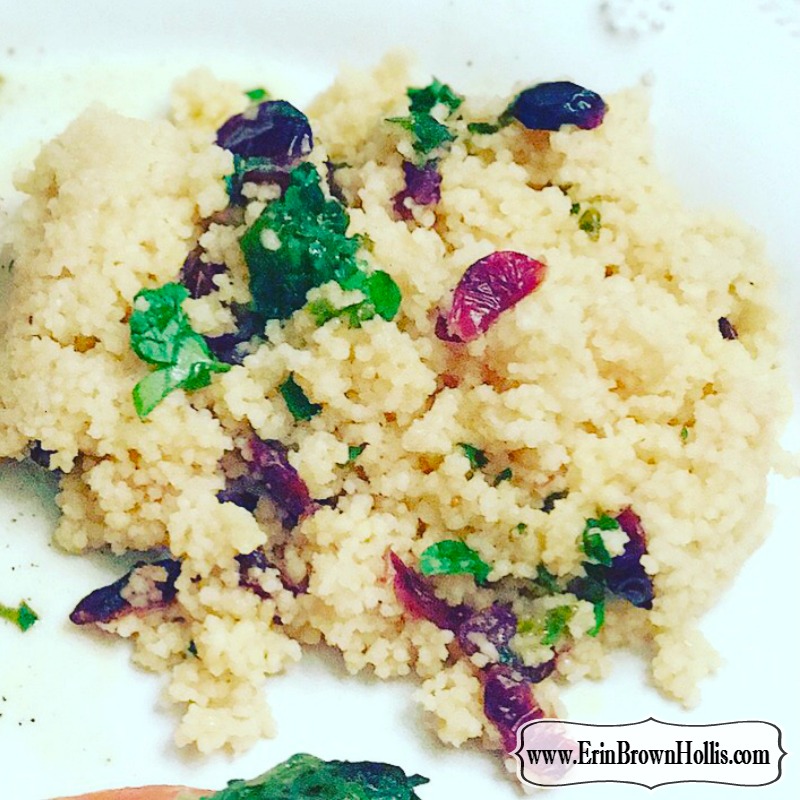 Finally, place a piece of fish on each plate and sprinkle the finishing sauce over top each one.  Place a large helping of roasted veggies on plate as well.  Serve and enjoy!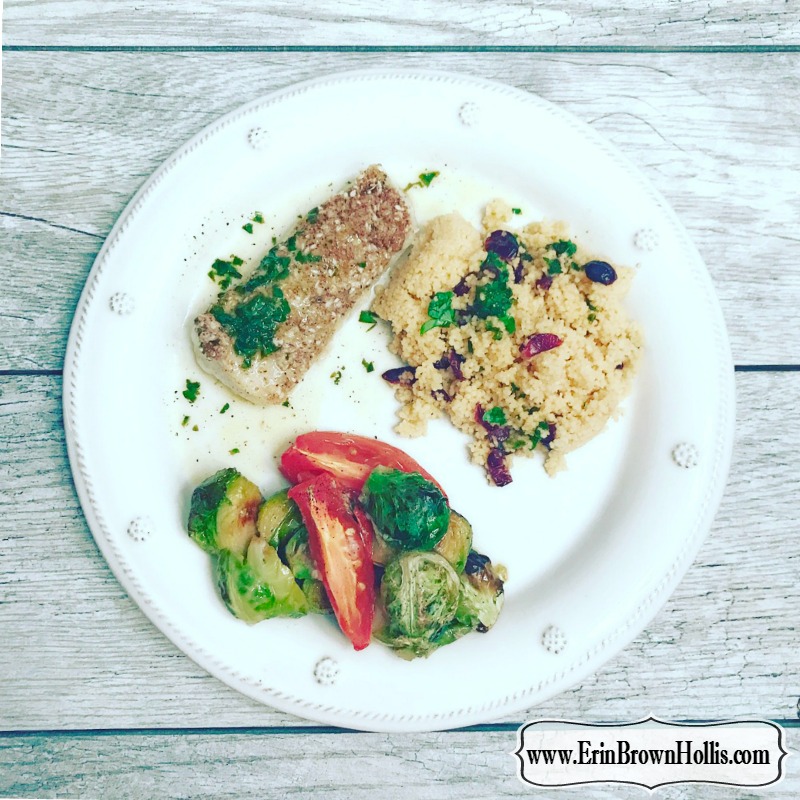 What are you fixin' in your kitchen this week?  Please share in the comments!
Please subscribe to our Monday newsletter for weekly tips, recipes and encouragement! 🙂
http://www.erinbrownhollis.com/wp-content/uploads/2017/06/blogafeature5.jpg
372
675
erinbrownhollis@gmail.com
http://www.erinbrownhollis.com/wp-content/uploads/2016/08/eb_logo2.jpg
erinbrownhollis@gmail.com
2017-07-24 05:12:48
2017-07-24 05:12:48
Parmesan Crusted Cod with Fluffy Cranberry Couscous