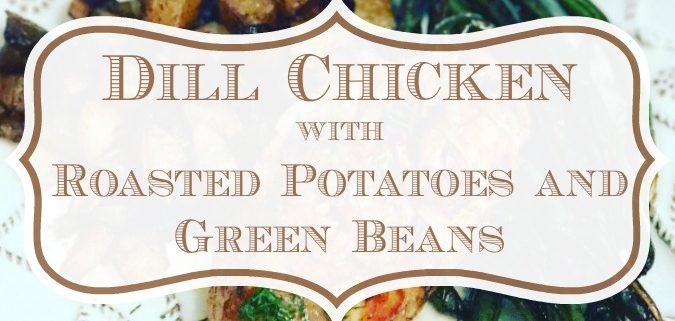 #TipTuesday
Dill Chicken with Roasted Potatoes and Green Beans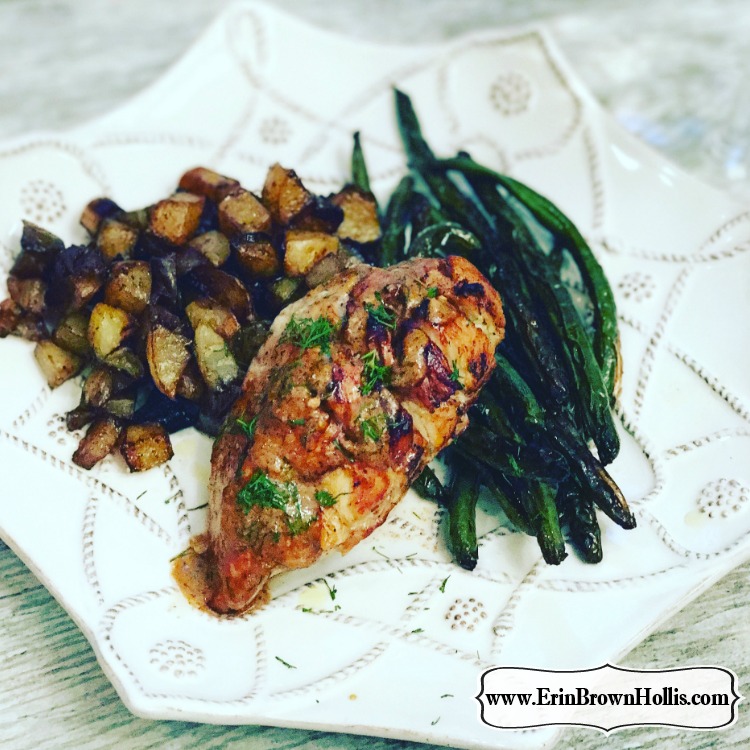 This is one of my FAVE H ello F resh recipes I have received to date, so I am going to share it with you here.
Added a few of my own tricks ;), but this is mainly just their rendition of Dill Chicken.  Enjoy and Bon Appetit!
You will need:
2 Chicken Breasts
Yukon Gold Potatoes (enough to serve 2 adults)
Green Beans (enough to serve 2 adults)
2 Tablespoons of sour cream
1 Teaspoon Dijon Mustard
Chicken Stock Concentrate
Balsamic Vinegar (my addition) 😉
Dry Ranch Dressing Packet (my addition) 😉
Olive Oil
Dill for garnish
Salt and Pepper
Dish Deets:
Prep Time: 10 minutes
Cook Time: 25-35 minutes
Feeds: 2 adults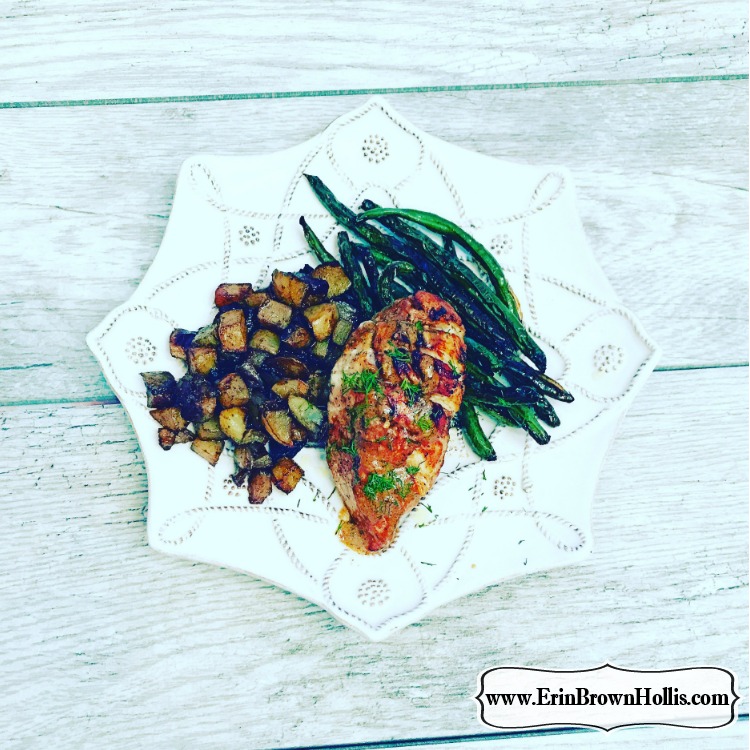 Directions:
(1) Preheat oven to 450.
(2) Dice potatoes into small 1/2 inch cubes.  Pick the dill from the stems and finely chop.
(3) Line a baking sheet with aluminum foil.  Place potatoes on the pan.  Douse them in an even mixture of olive oil, balsamic vinegar, dry ranch dressing and salt / pepper.  Toss until all potatoes are evenly coated.  Roast potatoes in oven for 25-30 minutes or until browned and crisp.  TIP: Toss the potatoes half way through cooking to ensure even cooking.
(4) Heat a drizzle of olive oil in a skillet over medium high heat.  Season chicken breasts with salt and pepper.  Sear chicken on each side until no longer pink.  Add chicken to the potatoes pan for the last 7-10 minutes of cooking to finish baking completely throughout.
(5) Line another baking sheet with aluminum foil.  Place green beans on top.  Toss green beans in olive oil and salt / pepper to taste.  Add some balsamic vinegar and dry ranch dressing if desired.  Roast in oven until tender (10-15 minutes).  TIP: We like our green beans almost burned because they have an incredible flavor then.  That requires almost 20 -25 minutes cooking time…heads up 😉 )
(6) For the dill sauce: stir together the following ingredients in a pan over medium heat: 1 teaspoon dill, sour cream, stock concentrate, 1 teaspoon mustard, 2 tablespoons water.  * Use the pan that you cooked the chicken in to make the sauce.  Season the sauce with salt and pepper.
(7) To serve: Arrange the green beans and potatoes evenly on the plate.  Place a chicken breast on top.  Drizzle the dill sauce on top.  Serve and enjoy!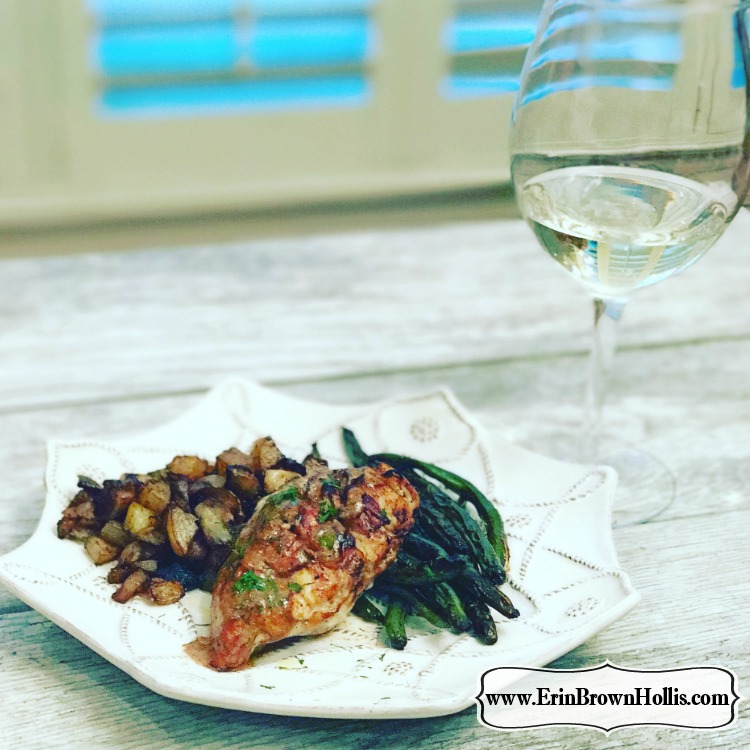 What are you fixin' in your kitchen this week? Please share in the comments!
Please sign up for our Monday newsletter to receive weekly tips, recipes and encouragement! 🙂
http://www.erinbrownhollis.com/wp-content/uploads/2017/09/blogaaaaachicken6.jpg
372
675
erinbrownhollis@gmail.com
http://www.erinbrownhollis.com/wp-content/uploads/2016/08/eb_logo2.jpg
erinbrownhollis@gmail.com
2017-10-02 05:18:53
2017-10-02 05:18:53
Dill Chicken with Roasted Potatoes and Green Beans