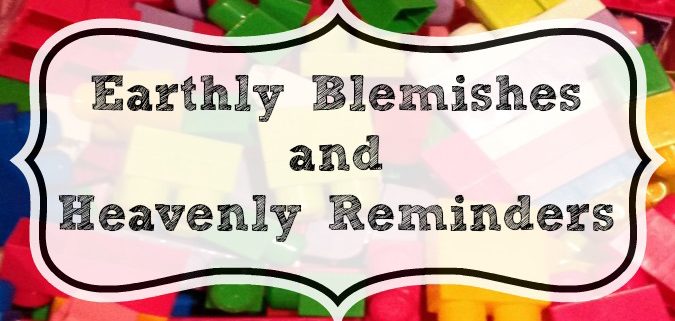 #MommaMonday
Earthly Blemishes and Heavenly Reminders
Last week on Thanksgiving, I shared my whole "glass-half-full" approach to Mommyhood with my fam.
Because, as with every family, some of my loved ones were feeling, well, bogged down in the business of Mommin'.
Some were even negative about it, commenting about all the ways motherhood has changed them.
And I totally agree.
Motherhood does change us.
ALOT.
But, I think motherhood has changed us all for the better.
It's all in the way we look at things.
All of us have blemishes now because of our journeys.
We may dress differently.
Look differently.
Act differently.
Think differently.
But, at the end of the day, we Mommas have all been changed for the better.
If you need a little perspective change-up, check this out:
These stretch marks remind me that I was gifted two precious children. I was able to carry them on my own. God chose to use my body as the vessel to bring them into this world. And He just so happened to leave a special reminder of those moments. Rather than scoffing at their presence, I will thank Him for blessing me with my family.
This cellulite on my thighs seemed to pack on pretty fast after baby number one. As a relatively fit human, I was appalled at its emergence. But, now I look at it as a constant reminder that we all have areas of improvement. I thank God for the opportunity to explore those improvements. My body is a temple, as I keep reminding myself. And even the grandest of temples have blemishes.
These bags under my eyes represent the hours I spend nurturing my little ones. I could be enjoying blissful sleep with no distractions, but I am called to something so much greater. My babies need grace and love. Just like I do. And these bags, while temporary, are permanent reminders that a little lack of sleep is certainly worth the love I share with my God-given gifts.
This pain in my back has resulted from years of lifting and chasing little ones. I could sit and complain about it, or I could take a Tylenol and remind myself that there will come a day when I will wish I could chase them around at home rather than at the mall or at some boy's house nearby…
These missed calls from friends are reminders that my priorities have drastically changed…for the better. Rather than spending my time appeasing my selfish desires, I am reveling in the opportunity to create my newest little #squad 😉
This empty bank account is super stressful. These stacks of bills make me wanna crawl in a hole and hide. But, snuggling at home is way better than the hustle and bustle any day. Ramen noodles never tasted better since they come coupled with a big bear hug. And the smiles on those innocent, grateful faces make every penny … and lack thereof… worthwhile.
This trashed car looks like a city dumpster. You would think I have 27 children with all the trash collecting going on up in here. But, those crackers crushed into the carpet means somebody was fed that day. Those crayons melting into the seats means someone found joy in coloring. And those ballet shoes strewn about in the backseat means someone is on a fun adventure. Today, I will be grateful to even have a vehicle to transport these little ones on their journeys of life.
This laundry room full of dirty, nasty, stinky clothes is overwhelming, quite honestly. I avoid it at all costs most days. But, today I am going to gaze at the tiny dresses and think about the little bodies who wear them. The little bodies that danced into my life and changed my life (and my laundry room) for the better.
This den is full of junk. My guests must think we have been collecting for a gigantic charitable donation for months. Wait, guests…? What are those? There's been a "quarantined" sign on my house circa 2012…But, that's really ok. I don't wanna don my apron right now anyway. I probably do need to tidy up this den, though… Ok, rather than gritting my teeth as I clean, I will reminisce about all the fun moments we share here. And plan for hundreds more…
This sloppy getup I've got going on is probably not appealing to those forced to view it… But, to my babies, these PJs mean Mommy is ready to be jumped on, snuggled with, kissed, and wrestled in the floor.  They mean I've got all the time in the world to do some lovin'.
Whew.  That's a whole lotta "little merry sunshine" for this Monday morning.  But, I hope that as each of us gets down, because we will from time to time, we will always remember that these earthly blemishes are heavenly reminders of God's infinite blessings.
What earthly blemishes have you struggled with lately?  And how do you overcome them?
Please share in the comments!
Welcome to the Tribe, Momma! We are so thankful you are here 🙂 If you want to be updated each time there is new content including Momma tips, recipes, fashion inspo and encouragement, please subscribe to our Monday newsletter here:
http://www.erinbrownhollis.com/wp-content/uploads/2017/10/blogaaaaablogfeature.jpg
372
675
erinbrownhollis@gmail.com
http://www.erinbrownhollis.com/wp-content/uploads/2016/08/eb_logo2.jpg
erinbrownhollis@gmail.com
2017-11-27 21:18:22
2017-11-27 21:18:22
Earthly Blemishes and Heavenly Reminders