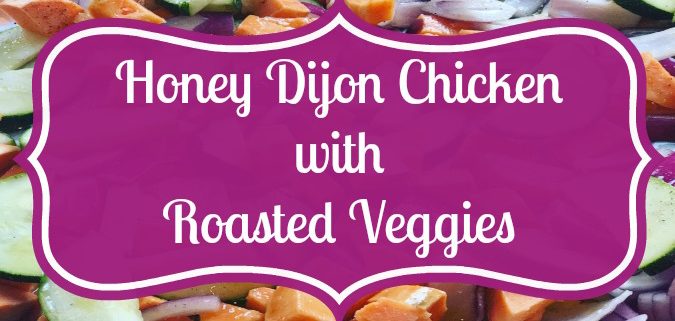 #TipTuesday
Honey Dijon Chicken with Roasted Veggies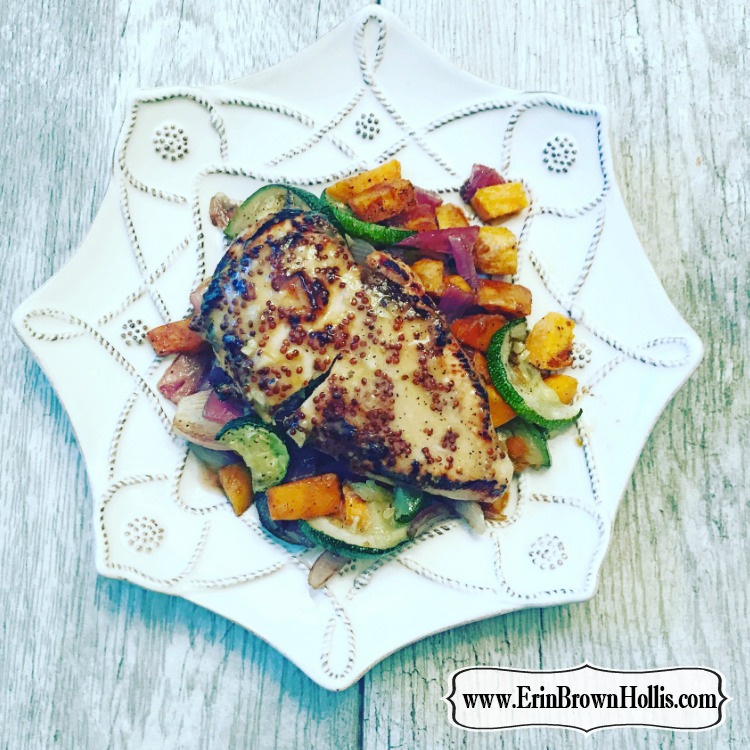 Friends, it's not often that I feel the need to run up to everyone I know and share a recipe…BUT this one is a keeper, without a doubt.
This one is so lip smackin' good, I wish I could take out a front page ad for it!
I found it as one of my recipes in a recent H ello F resh box.  Have I mentioned I LOVE H ello F resh?!?
I added a few "Erin Edits" to it, and voila! My family now begs for this one!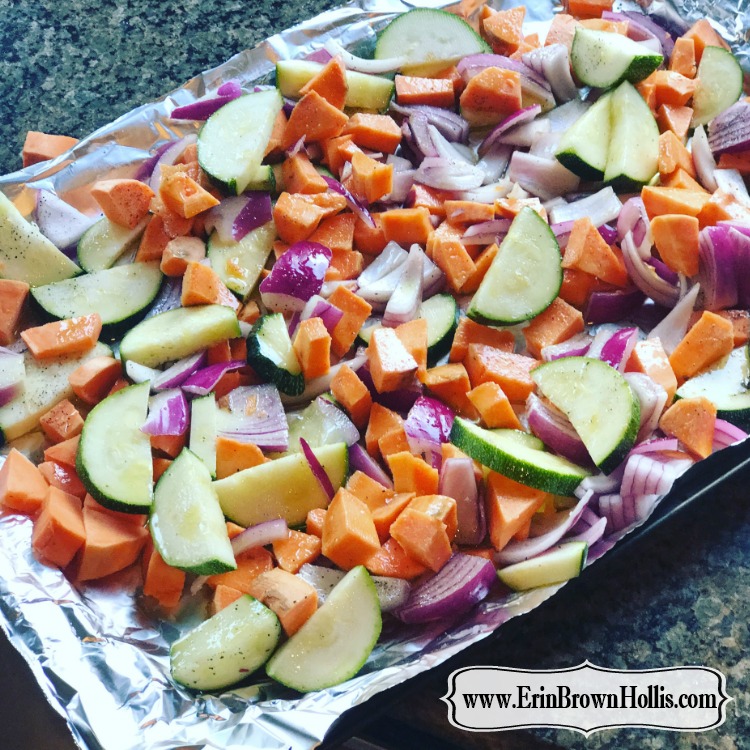 You will need:
2 chicken breasts
2 tablespoons of olive oil (I used much more…)
1 red onion
1 zucchini
2 sweet potatoes
1 clove of garlic
2 tablespoons of whole grain mustard
1 ounce of honey
1 teaspoon white wine vinegar
Salt and Pepper to taste
Parlsey is optional as a garnish
Dish Deets:
Prep Time: 15-20 minutes
Cook Time: 25-35 minutes
Feeds: 2 adults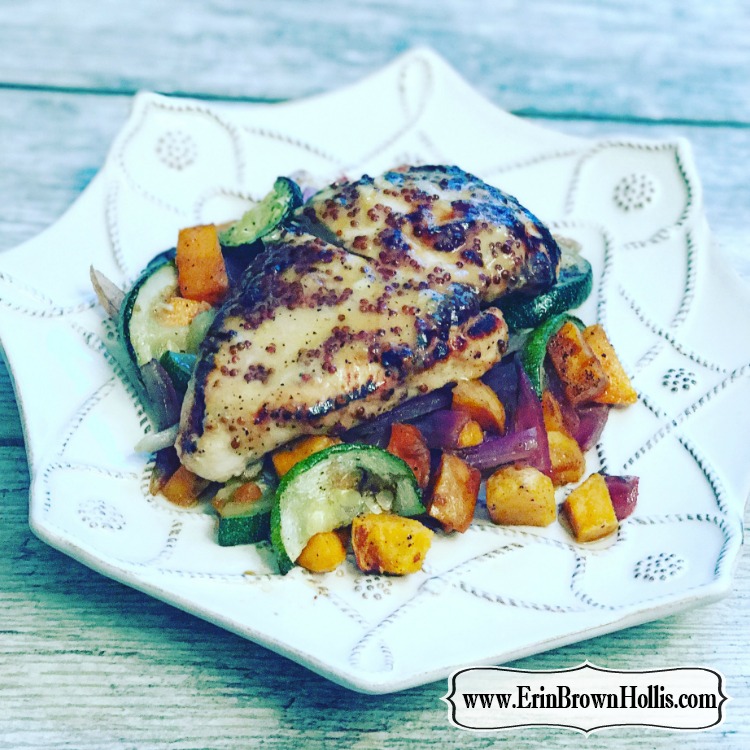 Directions:
(1) Heat oven to 400.
(2) Wash all produce.  Peel, halve and cut onion into 1/2 sized wedges.  Using your sharpened knife, halve the zucchini lengthwise.  Then, cut each side into 1/2 – inch thick half-moons.  Cut the sweet potatoes into 1-inch cubes.
(3) Place a piece of aluminum foil on a sheet pan.  Add a thin layer of olive oil.  Place cut up veggies on pan.  Toss with olive oil until all veggies are covered.  Cover the produce with a healthy layer of salt and pepper to taste.  Roast your veggies in the oven for 25-35 minutes.  Just look at the gorgeous colors that will emerge from your oven once your veggies are done!!! :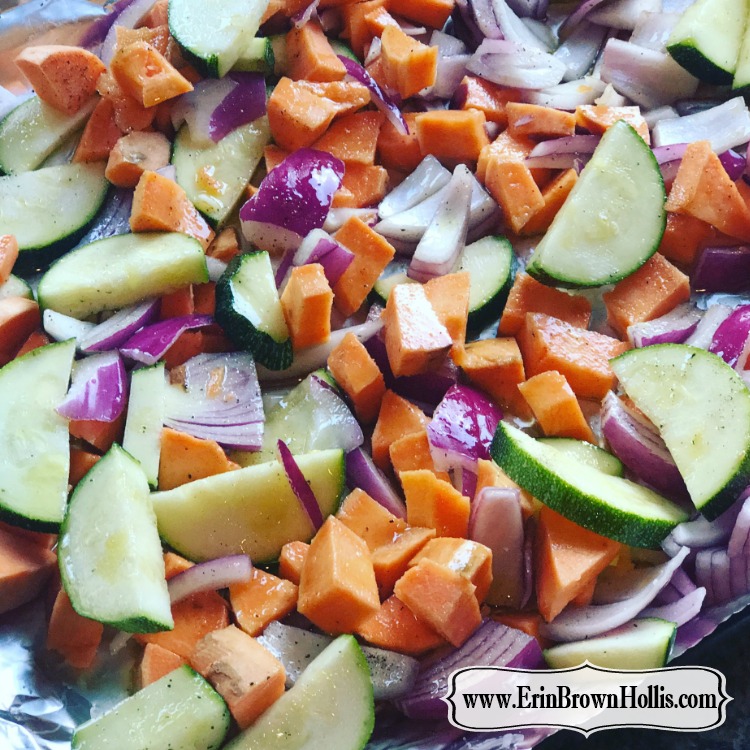 (4) Mince your garlic clove.  Combine the garlic, honey, 1 tablespoon whole grain mustard, 1 teaspoon white wine vinegar, and 1 tablespoon olive oil.  Season with salt and pepper.  Stir all ingredients to create a sauce.  (I set a little bit aside for pouring over once the chicken was placed in the oven…)
(5) With the exception of a few spoonfuls that you set aside for later use, pour the mustard sauce all over the chicken (making to sure to coat each piece).
(6) Pour a small drizzle of olive oil in a skillet over medium-high heat.  Place the chicken in the skillet and sear on each side (about 2-3 minutes on each side).  Using a spoon, make sure to continually coat the chicken with the marinade as it cooks in the skillet.
(7) Layer another sheet pan with aluminum foil and place the chicken in the center.  Pour the remaining honey Dijon sauce over the chicken.  Place chicken in the oven and roast for about 8-10 minutes or until the chicken is firm and white throughout.
(8) To serve, place a large spoonful (or two) of veggies in the center of each plate.  Place a chicken breast atop the veggies.  If you have any honey Dijon marinade remaining, pour it over top the chicken.  Sprinkle some chopped parsley as a garnish, if preferred.  Serve and enjoy!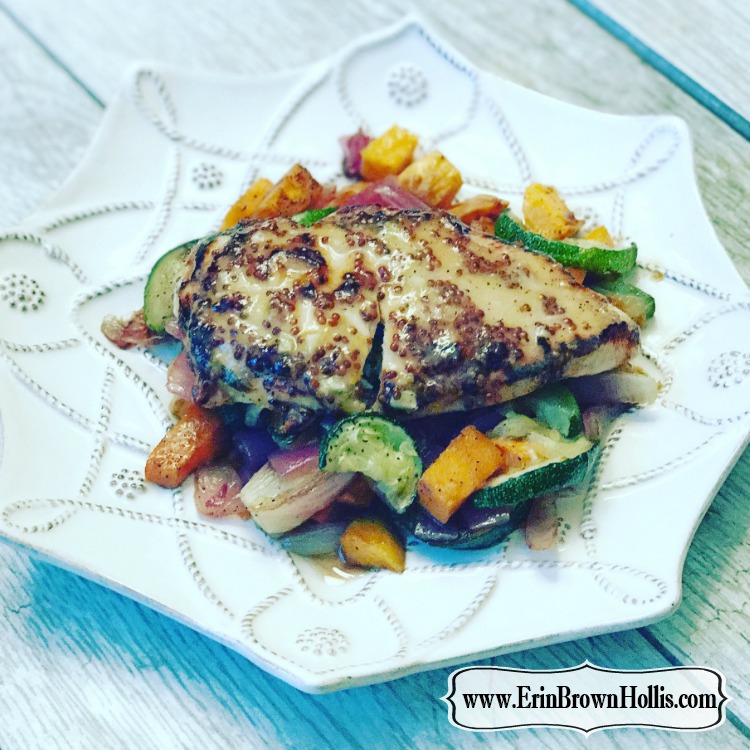 What are you fixin' in your kitchen this week?  Please share in the comments!
Please sign up for our Monday newsletter for weekly tips, recipes and encouragement! 🙂
http://www.erinbrownhollis.com/wp-content/uploads/2017/09/blogaaaaahoneychicfeature.jpg
372
675
erinbrownhollis@gmail.com
http://www.erinbrownhollis.com/wp-content/uploads/2016/08/eb_logo2.jpg
erinbrownhollis@gmail.com
2017-09-18 04:35:10
2017-09-18 04:35:10
Honey Dijon Chicken with Roasted Veggies