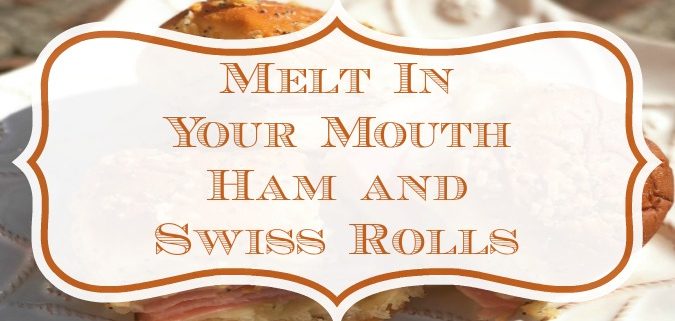 #TipTuesday
Melt In Your Mouth Ham and Swiss Rolls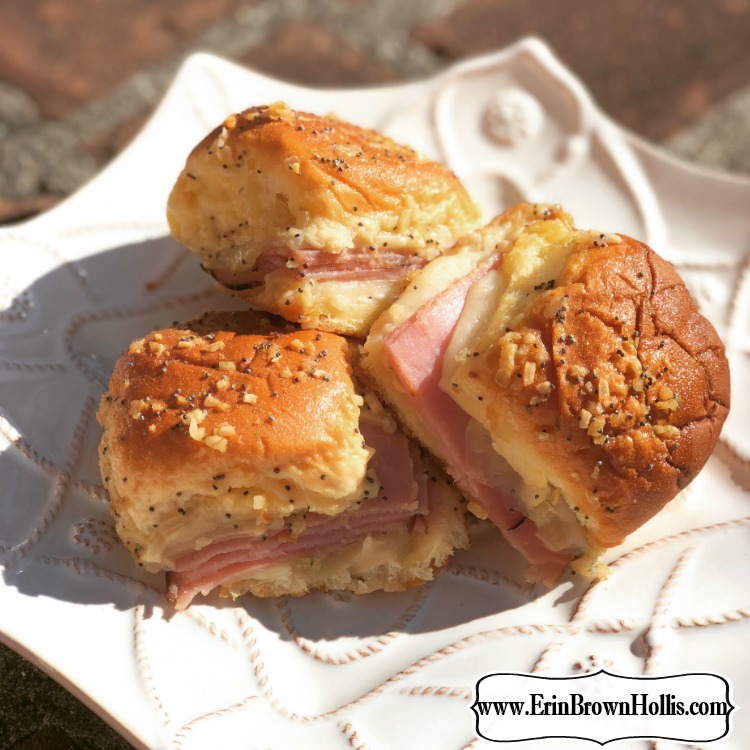 Friends, there is so much Whole30, healthy / clean eating, diet information flooding the internet right now that I thought I'd keep it real and bring you some of the best soul food you'll ever put in your mouth.
I mean it's below 40 degrees here.  I have no interest in changing out of these pajamas and surviving the tundra just so I can snag coconut flakes and zoodles from TJ's (Trader Joe's for anyone confused… 😉 )
So, I give you: Melt In Your Mouth Ham and Swiss Rolls.
All you need to know is that the base ingredient of these sinfully good treats is Hawaiian rolls and you should completely comprehend the magnitude of their amazingness…
These little wonder rolls are delish any time of the day for any function!  The condiments are baked into them, so there's no need to hassle with setting up a station with mustards, jellies, etc.  These puppies stand alone!  They even travel well – so that makes them perfect to become your go-to snack for parties / get-togethers when you're tasked with bringing a little something to eat with you.  These rolls are so delish, they will make you feel like a kitchen superstar – the secret is the sauce you pour over them just before baking 😉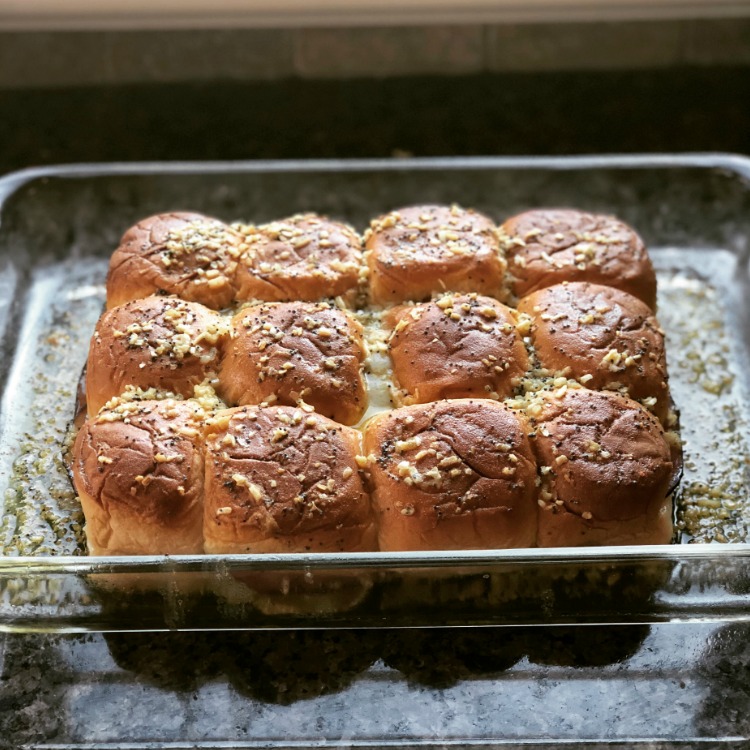 You will need:
2 packages (12 count each) of King's Hawaiian Original Sweet Dinner Rolls
1/2 to 1 pound or 24 slices of deli honey ham (I use Honeybaked Ham because…is there anything more scrumptious?!?)
12 slices of thinly sliced Swiss cheese, cut into fourths
1 tablespoon poppy seeds
1 1/2 tablespoons Dijon mustard
3/4 cup butter melted
1 1/2 teaspoon Worcestershire sauce
1 tablespoon dried minced onion
Mayonnaise for spreading
Dish Deets:
Prep Time: 15 minutes
Cook Time: 20-25 minutes
Feeds: 12-15 people
*NOTE: You can divide this recipe in half if you only desire to make 12 rolls.  OR you can multiply depending on how many rolls you need to prepare.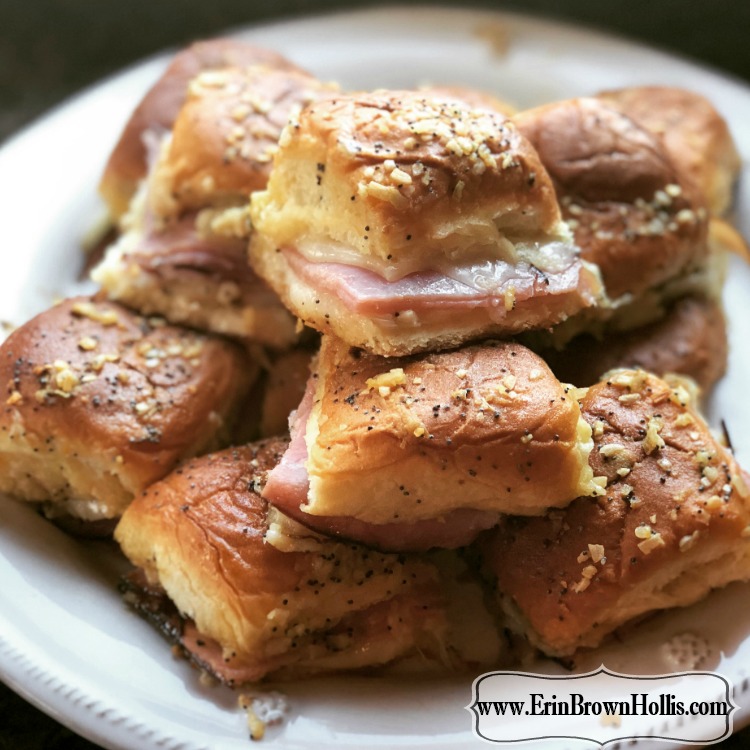 Directions:
(1) Preheat oven to 350.  Grease a 9×13 baking dish.
(2) Separate the tops from the bottoms of the rolls.  Line the bottoms of the rolls in your greased 9×13 baking dish.  Using a knife, place a very thin layer of mayonnaise on the rolls.
(3) Next, place a slice of Swiss cheese on each roll (or cover the entire layer of rolls with thinly sliced Swiss cheese).
(4) Layer the ham onto the rolls, evenly making sure to put the same amount on each roll. (Don't forget the edges ;))
(5) Arrange the remaining Swiss cheese over the ham.  Place the tops of the rolls back on top of the top layer of Swiss cheese creating mini sandwiches.
(6) In a bowl, mix together butter, Dijon mustard, Worcestershire sauce, poppy seeds and dried onions.
(7) Pour the mustard mixture evenly over the rolls.
(8) Bake in the oven until the rolls are lightly browned and you can see the cheese melting – this will take 20 – 25 minutes.
(9) Remove the rolls from the oven and slice evenly creating mini sandwiches.  Serve and enjoy!
* QUICK TIP: Using aluminum foil during baking can help to cook the rolls more evenly!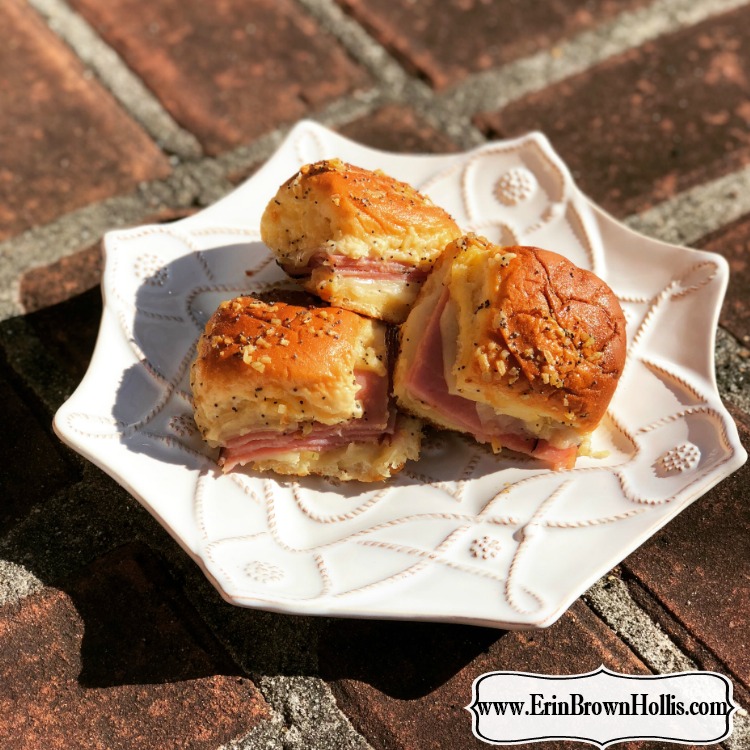 What are you fixin' in your kitchen this week? Please share in the comments! 🙂
Welcome to the Tribe, friend! I am so thankful you stopped by.  I hope you are finding some neat things here, and if you like what you see, I would love to add you to our Monday newsletter list!  Each Monday I send out a list of all the new blog posts right to your inbox so you don't have to search for the latest tips, recipes and encouragement! 🙂 Let's be friends…Add your email below!
http://www.erinbrownhollis.com/wp-content/uploads/2018/01/blogaaaaaaaaarolls.jpg
372
675
erinbrownhollis@gmail.com
http://www.erinbrownhollis.com/wp-content/uploads/2016/08/eb_logo2.jpg
erinbrownhollis@gmail.com
2018-01-08 22:11:22
2018-01-08 22:11:38
Melt In Your Mouth Ham and Swiss Rolls