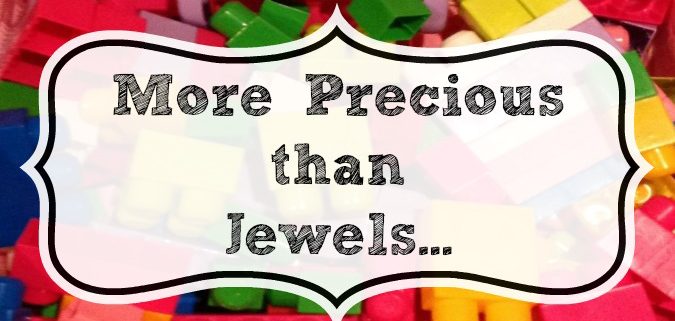 #MommaMonday
More Precious than Jewels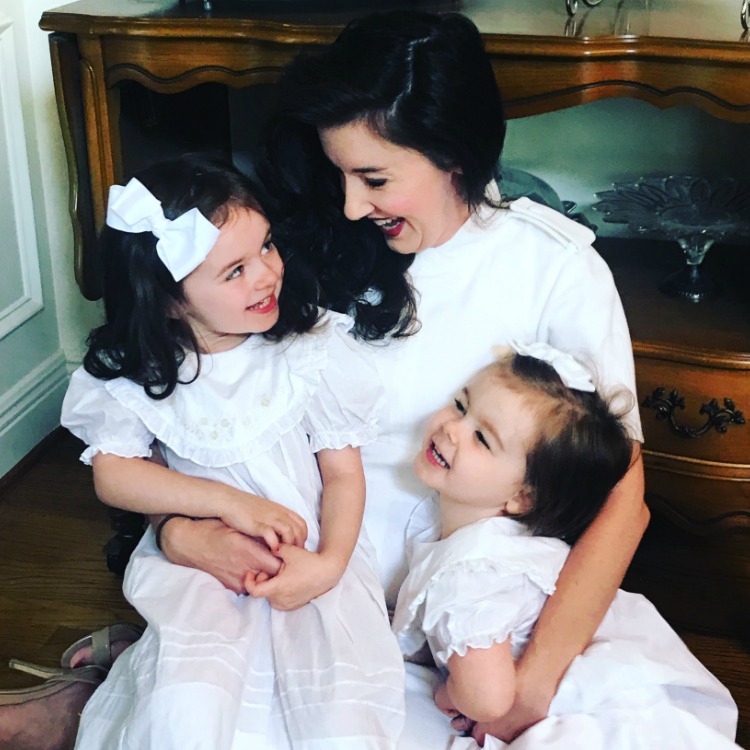 This weekend my little girls and I were getting ready to head out for the day.
My oldest glanced at my youngest and said, "You look lovely, Princess."
Normally, I would write this down in my little black book of "HECK YEAHS OF PARENTING."
But, this time, God hit me with a major lightbulb moment.
Our little girls become body conscious at birth.
We are born with the ability / inherent desire to check out all the mirrors.  Sometimes all too frequently…
Society has all kinds of definitions for "pretty," "skinny," and "fabulous" these days.
Which causes us to have an innate urge to care more about appearances than souls.
About looks rather than insides.
About actions rather than motives.
And I started thinking about all the times my girls follow me around the house like little ducklings.
What are they seeing me do?
Are they watching me read my Bible?
Or observing me thumbing through the latest beauty mag…
Are they hearing me point out the supposed flaws I view in the mirror?
Or listening to me thank God for making me just the way I am…
Do they overhear judgy conversations about others between myself and my husband?
Or will they remember us edifying our friends and discussing uplifting things…
Every single thing that comes out of our mouths goes directly in the ears of our little ones.
Every second we spend fussing in front a mirror gets logged in their minds forever.
All those moments of frustration in the dressing rooms while we tug at this lump here and pull at this crease there…yep.  They're watching.
When we lament about fine lines and wrinkles, all they are hearing is "imperfect here" and "ugly there."
Sometimes we don't even realize these little instances are happening…
And whether we realize it or not, our little ones are internalizing each of these moments as the very measuring sticks against which they will judge themselves one day.
Wow.
This is gettin' deep, friends.
I don't know about you, but I want to take every opportunity to remind my babies that they are perfect just the way God made them.
That time spent frou-frouing in the mirror is far less important than time spent primping their hearts.
That their bodies are temples rather than trend setters.
That those little "imperfections" are God's divine design.
That their minds are the organs of true value to society, rather than their moxie.
That their walk with Christ is the one to focus on rather than their strut.
We won't be able to remove all of those crazy pubescent angst years.
But, we sure can raise them up to believe in the Savior rather than Sephora, friends.
Next time you think about criticizing your appearance, think about those little ears.
Put a hand over your mouth if you have to, and allow God to remind you of your outer and most importantly inner, beauty.
And, if you can't say anything nice about yourself, remember this: "You are far more precious than jewels." (Proverbs 31:10)
Love you, beauties!  And, I love you for exactly who YOU are!
Please sign up for our Monday newsletter for weekly tips, recipes and encouragement! 🙂
http://www.erinbrownhollis.com/wp-content/uploads/2017/09/blogaaaaaapic-1.jpg
372
675
erinbrownhollis@gmail.com
http://www.erinbrownhollis.com/wp-content/uploads/2016/08/eb_logo2.jpg
erinbrownhollis@gmail.com
2017-09-18 04:38:22
2017-09-18 04:38:22
More Precious Than Jewels