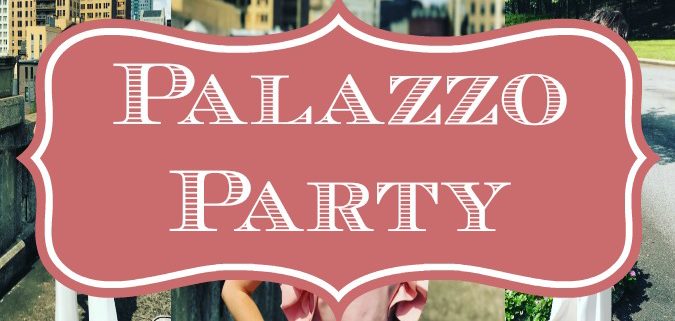 #WardrobeWednesday
Palazzo Party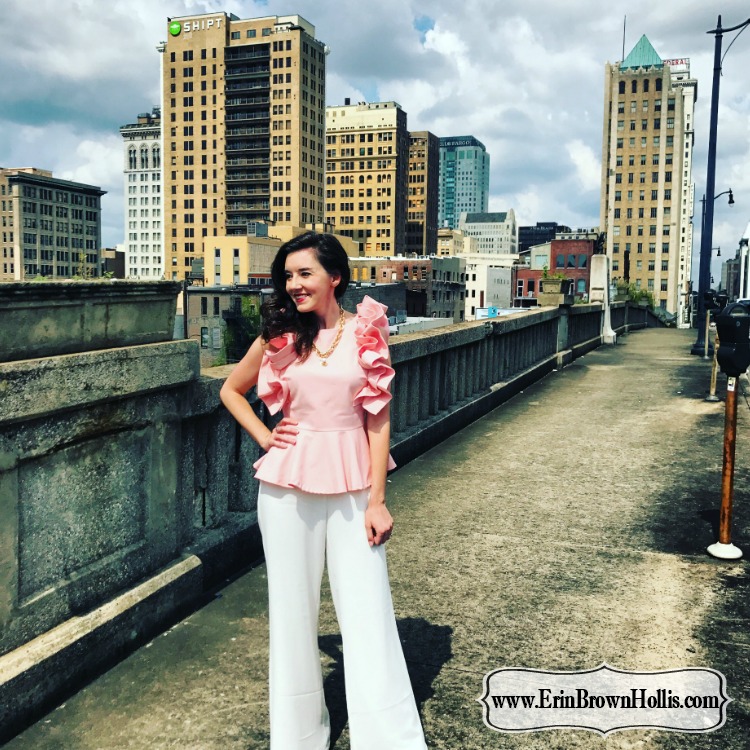 Top: Red Dress Boutique
Pants: HERE
Word on the street is that palazzo pants are word on the street, friends…
See what I did there…  In the photo I'm …on the street….
Moving on.
In all seriousness, these wide leg sensations have made a comeback. So, of course, I had to figure out a way to style a pair southern belle style, y'all.
Just add this ruffle top and you are ready for that board meeting…ok, let's get real… your dream Southern Living shoot 😉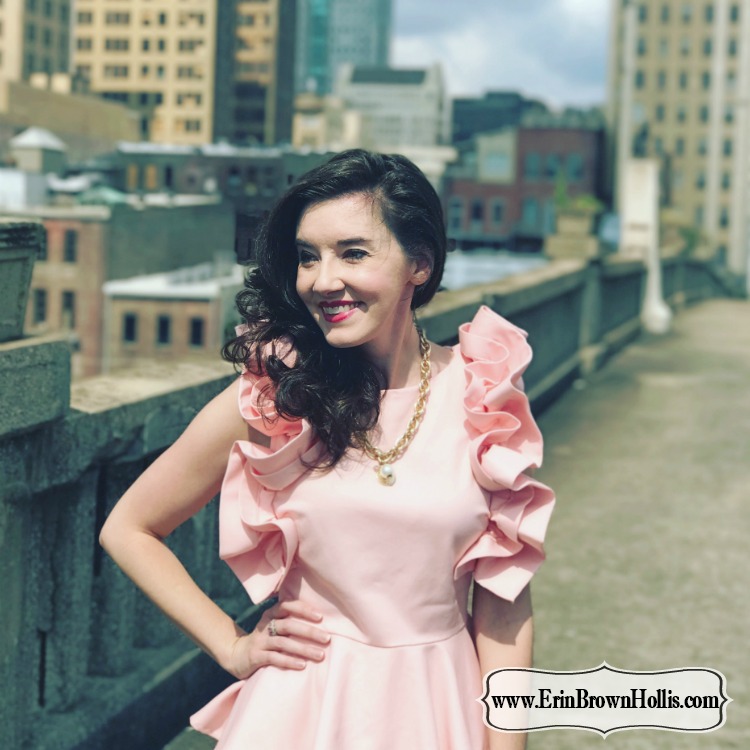 I've never met a ruffle I didn't like.
Well, that's not entirely true.  I have seen some ruffled table linens that were less than appealing…
But, fashion wise, ruffles are beautiful and on trend.  HALLELUJAH!
The return of feminine / romantic style makes my heart skip a beat.  There's just something about the dainty vibe that a ruffle adds…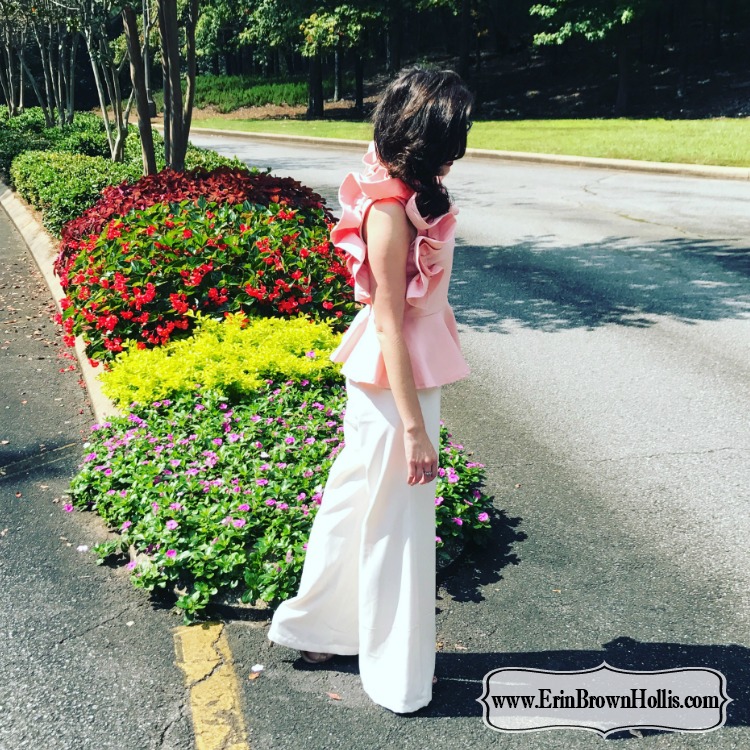 Paired with palazzos, this look is nailing the trendy femme vibe these days.
I added a subtle nude heel since the rest of the ensemble sort of "stole the show."
Plus, I didn't see any need in my feet attempting to compete with the rufflly amazingness…
You know what is extra great about these pants?
They look good on ALL body types.  With their "float away from the body magic," these will make you comfy in your own skin.  And, can I just remind you: You are gorgeous no matter what you wear 😉 Promise!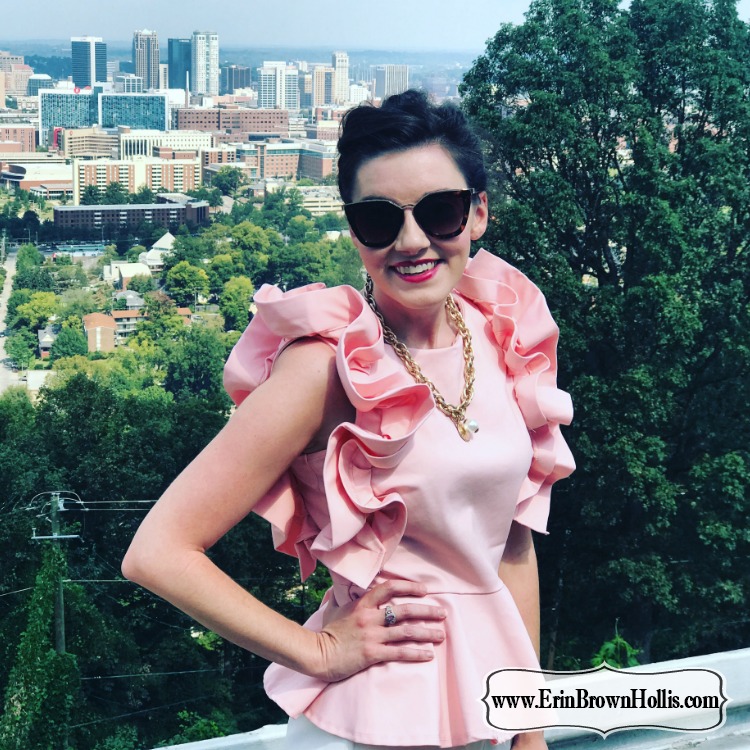 I decided half way through the day to throw my hair up.  Mainly because it was 1000 degrees the day I wore this.
But also because that hairstyle did a better job of showing off the ruffles rather than competing with them.
From the back, this shirt almost gives you a wing-like feel.
Which I love, because superheros are in and this is about the fanciest winged superhero look I ever did see 😉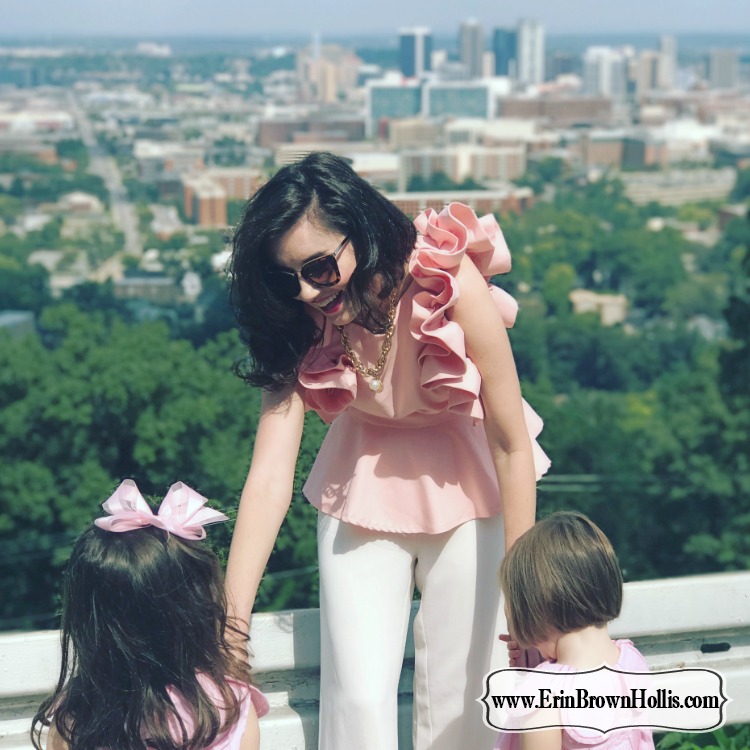 And for those of you who may be wondering about the versatility and real-world- bility of this fancy ruffle…
I successfully wrangled my two feisty toddlers all day with ease.
And, I gotta say…they were quite fond of the "Princess humps" on my shirt 😉
Now, I'm not suggesting we rock this look whilst folding the laundry, but every Momma needs a nice moment out on the town…am I right, ladies?!?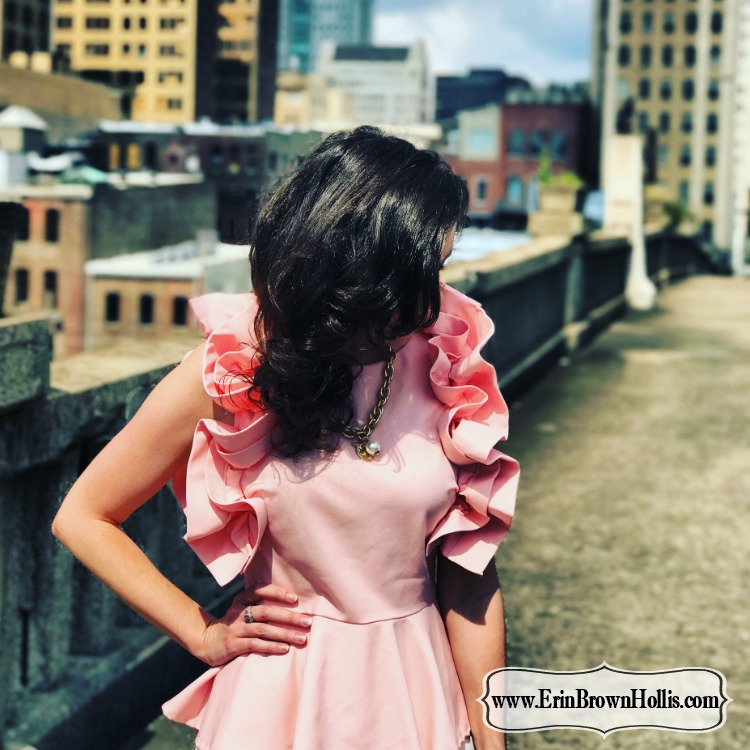 NOTE: As always, sharing fashion inspiration with y'all is super fun, but please remember most importantly, that true beauty is found within : "[T]he Lord sees not as man sees: man looks on the outward appearance, but the Lord looks on the heart." 1 Samuel 16:7b
What have you been playin' with in your closet this week?!? Please share in the comments!
Please subscribe to our Monday newsletter for weekly tips, recipes, fashion inspo and encouragement! 🙂
http://www.erinbrownhollis.com/wp-content/uploads/2017/10/blogaaaaafashfeature.jpg
372
675
erinbrownhollis@gmail.com
http://www.erinbrownhollis.com/wp-content/uploads/2016/08/eb_logo2.jpg
erinbrownhollis@gmail.com
2017-10-02 05:18:28
2017-10-02 05:18:28
Palazzo Party