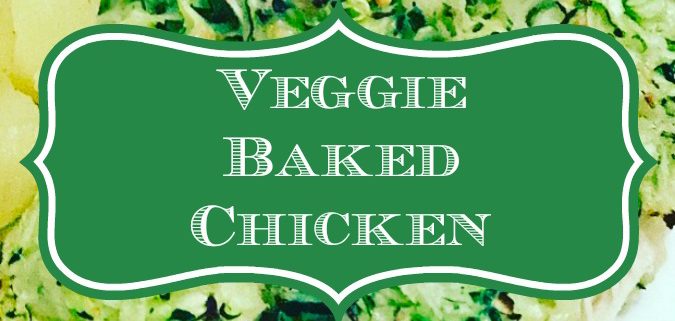 #TipTuesday
Veggie Baked Chicken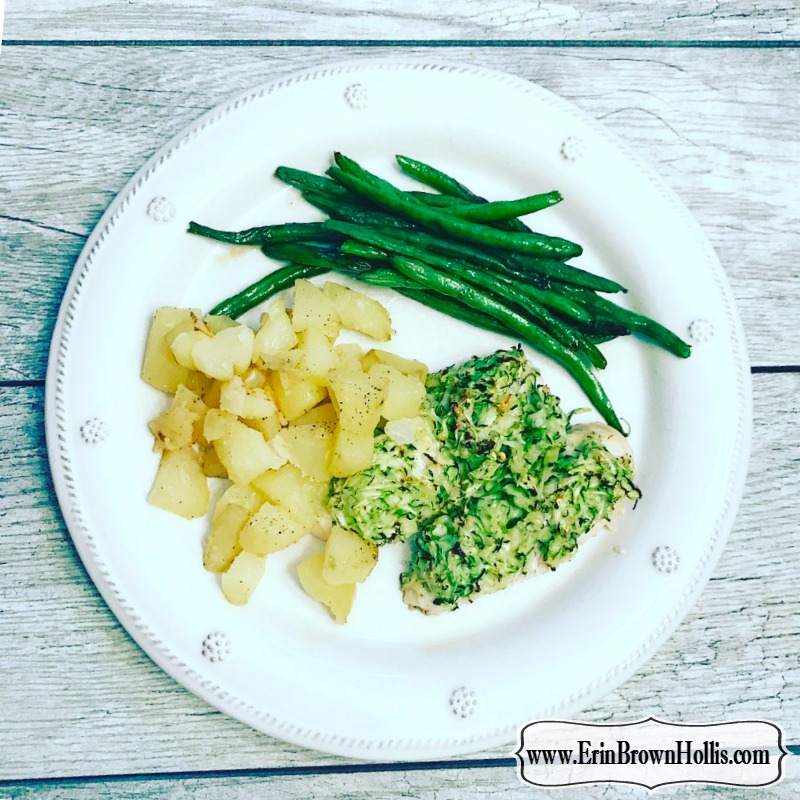 I mentioned to you guys a while back that I was trying out H ello Fresh.  And it has not disappointed!
The fresh ingredients are so delicious and I was pleasantly surprised with how easy the recipes are.
Today's chicken dish is one of those recipes…with my tweaks, of course 😉  Enjoy!
You will need:
2 chicken breasts
1/2 cup of parmesan cheese
12 ounces of Yukon gold potatoes (the little yellow ones)
1 zucchini
6 ounces of green beans
1 lemon
2 teaspoons of olive oil
1 tablespoon of butter
Salt and pepper to taste
Dish Deets:
Prep Time: 15 minutes
Cook Time: 15-25 minutes
Feeds: 2 adults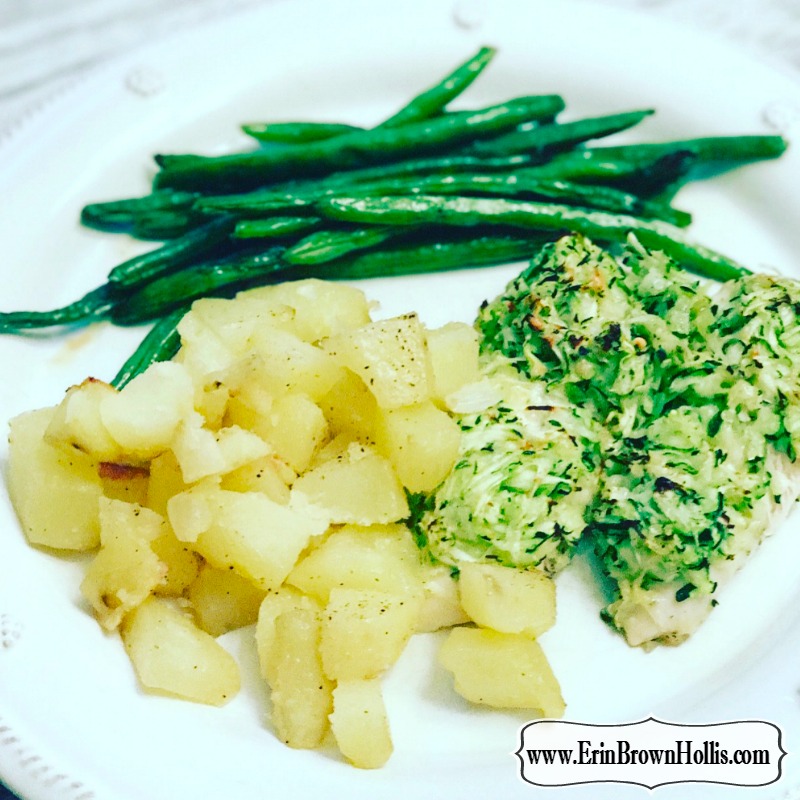 Directions:
(1) Preheat oven to 400.
(2) Quarter, then dice the potatoes evenly.  Trim stems off of green beans.  Toss liberally in olive oil and place potatoes and green beans on a large baking sheet lined with aluminum foil.  Sprinkle salt and pepper to taste.  Cook in the oven for 20-25 minutes, or until potatoes are tender and green beans are cooked throughout.
TIP: Toss midway through for even cooking.
(3) While the potatoes and green beans are cooking, grate zucchini on a box grater.  Make sure to place zucchini shreds in a bowl and squeeze out as much water as possible.  Season generously with salt and pepper, then set aside.
(4) Mix parmesan and zucchini shreds in a medium bowl.  Add a little drizzle of olive oil to make a paste-like mixture.
(5) Place chicken breasts on a baking sheet lined with aluminum foil.  Brush a drizzle of olive oil on each chicken breast.  Coat each breast with a thick layer of the zucchini / parmesan mixture.  Bake in the oven until cooked through.  This is the consistency of the zucchini / parmesan mixture you are looking for: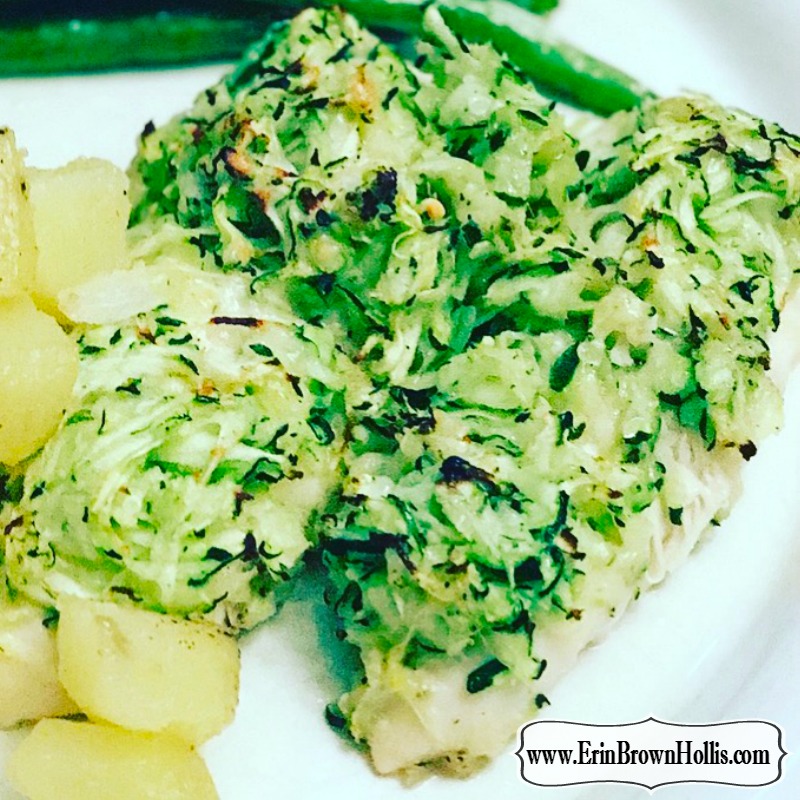 (6) At the very end of the chicken cooking, heat the broiler to high to crisp the zucchini / parmesan mixture BUT make sure not to let it burn.  You are just looking for that golden brown crisp.
(7) To plate, place large spoonfuls of potatoes and green beans on each plate.  Cut the lemon into wedges and squeeze a little lemon over top.  Serve and enjoy!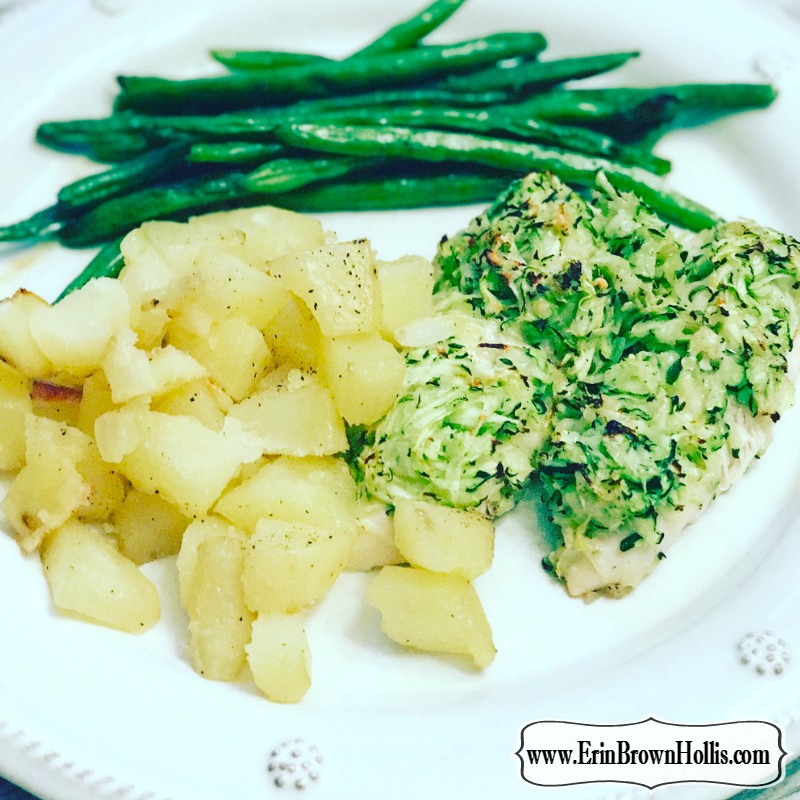 Even my tiniest diner was crazy for her veggie baked chicken!!
This is an excellent way to sneak more of those awesome veggies into the diets of your little ones!
I sometimes serve my kids their dinner on "big people" plates so that they feel like it is a special occasion.
Do whatever works for your kiddos!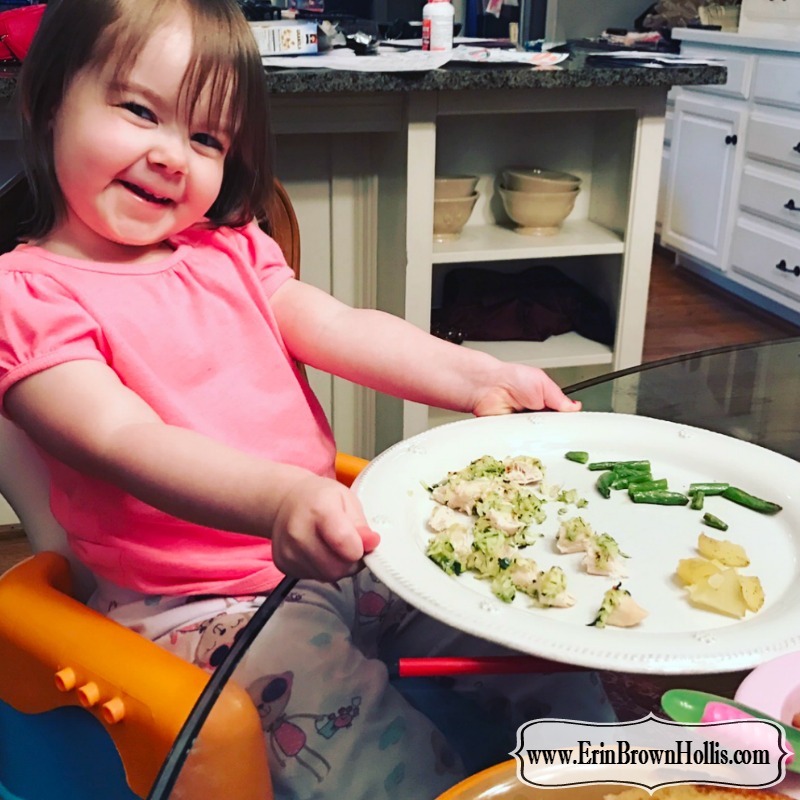 What have you been fixin' in your kitchen this week?  Please share in the comments!
Please subscribe to our Monday newsletter for weekly tips, recipes and encouragement! 🙂
http://www.erinbrownhollis.com/wp-content/uploads/2017/06/blogafeature4.jpg
372
675
erinbrownhollis@gmail.com
http://www.erinbrownhollis.com/wp-content/uploads/2016/08/eb_logo2.jpg
erinbrownhollis@gmail.com
2017-07-17 06:09:03
2017-07-17 06:09:03
Veggie Baked Chicken