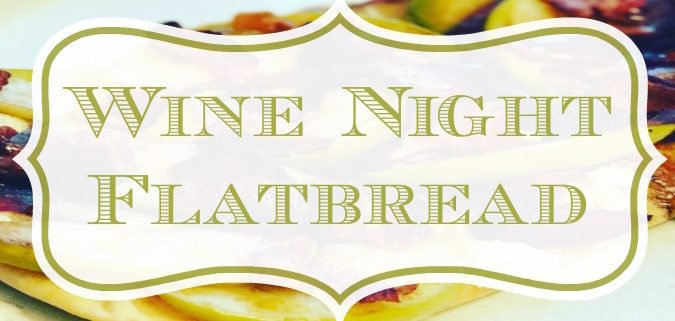 #TipTuesday
Wine Night Flatbread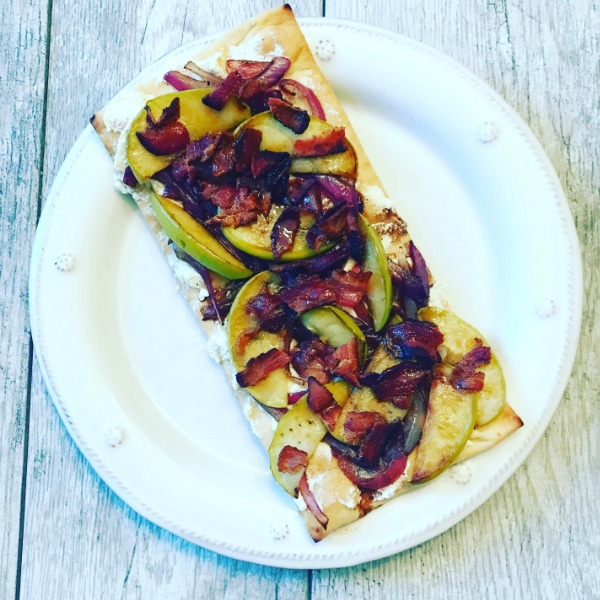 Every girl needs a good wine night (or three…).  Who's with me…?!?
I love to grab a few friends, a bottle of wine and chat about the week ahead or behind us.
Lately, I've been wanting to switch up the food options for these little get-togethers…
Then, I discovered a flatbread that pairs so perfectly with the beverage of the night, well, I just had to share!
Just look at this amazing-ness…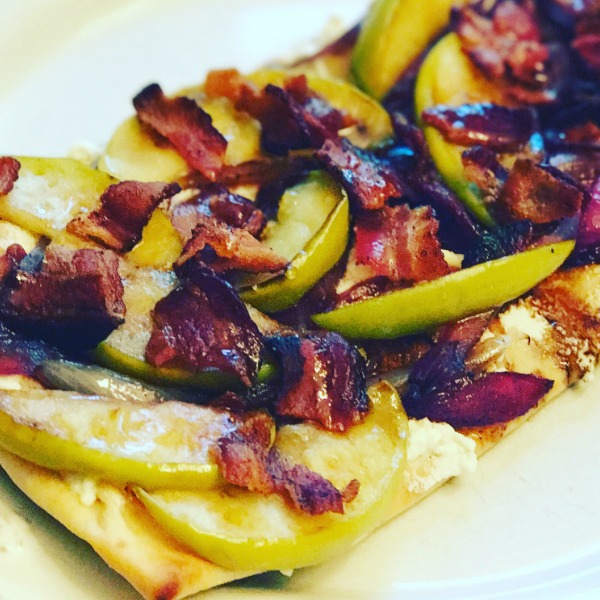 You will need:
8-10 slices of bacon (because what great recipe doesn't include this ingredient 😉 )
2 flatbreads
1 red onion
1 Granny Smith Apple
1 small container Crumbled Goat Cheese
2 tablespoons of balsamic vinegar
2 teaspoons of honey (and more for extra drizzle, if desired)
Ricotta cheese
Olive oil
1/4 teaspoon sugar
Salt and Pepper
Dish Deets:
Prep Time: 10-15 minutes
Cook Time: 10-15 minutes total
Feeds: 2 adults if served as whole flatbreads, OR 4-6 adults if sliced and served as appetizers
Directions:
(1) Preheat oven to 425.
(2) Thinly slice onion.  Halve, and thinly slice Granny Smith apple.
(3) Cook bacon in a skillet over medium heat.  Place cooked bacon on a paper-towel lined plate.  Crumble the bacon.  Reserve grease in the pan.
(4) Place flatbreads on a baking sheet and toast until lightly toasted (about 4-6 minutes).
(5) Using the same pan, add the onion slices and a pinch of sugar.  Cook for about 12 minutes (or until onion is golden).
(6) Stir in 1 tsp balsamic vinegar and cook until the liquid disappears.  Stir to mix in and coat all the onions.
(7) In another pan, heat a large drizzle of olive oil over medium high heat.  Place the apples in a single layer.  Cook until softened and golden brown.  This will take about 6-8 minutes.
(8) In a small bowl, combine ricotta, a drizzle of olive oil, and salt and pepper to taste.
(9) Using a knife, spread a layer of the ricotta mixture on each flatbread.  Evenly, layer the flatbread in the following order: apples, onions, crumbled bacon and crumbled goat cheese.
(10) Return flatbreads to the oven and cook for another 5 minutes or until toppings are crispy and lightly toasted.
(11) Drizzle flatbreads with balsamic vinegar and honey.  Either serve the flatbreads individually as dinner, OR slice into strips and serve as flatbread appetizers!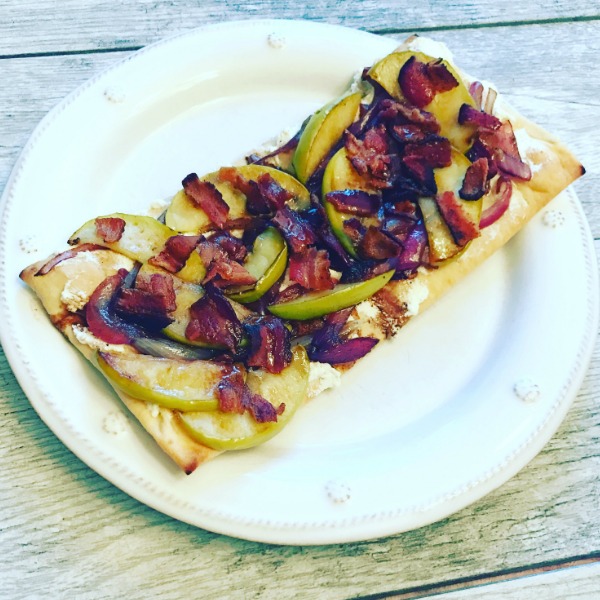 * I found this recipe in my Hello Fresh Box a few weeks and tweaked the ingredients and directions just a bit 😉
What have you been fixin' in your kitchen this week?  Please share in the comments!
Please subscribe to our Monday newsletter for weekly tips, recipes and encouragement! 🙂
http://www.erinbrownhollis.com/wp-content/uploads/2017/04/blogayummy5.jpg
372
675
erinbrownhollis@gmail.com
http://www.erinbrownhollis.com/wp-content/uploads/2016/08/eb_logo2.jpg
erinbrownhollis@gmail.com
2017-05-01 06:20:43
2017-05-01 06:20:43
Wine Night Flatbread